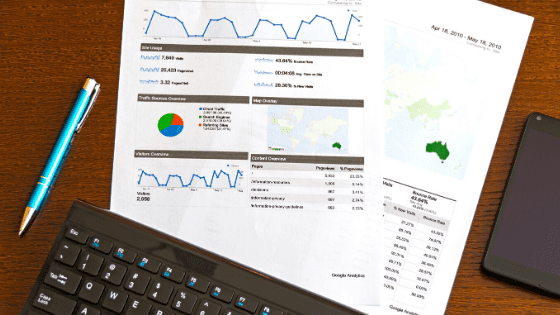 What is a Digital Analysis?
Our Digital Analysis is an award-winning marketing needs assessment with automated insights into a business's online marketing performance. These insights help our clients to know how they are doing with their online presence.
The report reviews six key areas for you business online:
Listings
Our Digital Analysis aggregates data from various online directories to show your company:
Number of listings
Accuracy of listings
Missing sites
Local businesses need accurate listings on many online directories to ensure that customers can find them on the web. Each listing source is assigned a score based on how popular the site is. For example, having an accurate listing on a popular site like Google Maps will have a greater influence on the score. A strong listing presence improves your business' search ranking and makes it discoverable. Without online listings, you may be losing customers to competitors.
There are four major listing providers in the United States: Factual, Acxiom, Infogroup, and Neustar (Localeze). These data providers are referenced by over 300 online listing directories and disseminate business information all over the web. Our Digital Analysis will help you be aware if your business' information is accurate on these major data aggregators.
Reviews
Our report pulls data from various review sites to highlight:
Number of reviews
Recency of reviews
Average score
As a local business you must continually collect fresh reviews and strive for 5–star ratings to establish trust and credibility. Your company's online reviews are in some ways the first impression potential customers see for your business. Having a 4 Star rating or higher increases your click through rate by 39% .
Social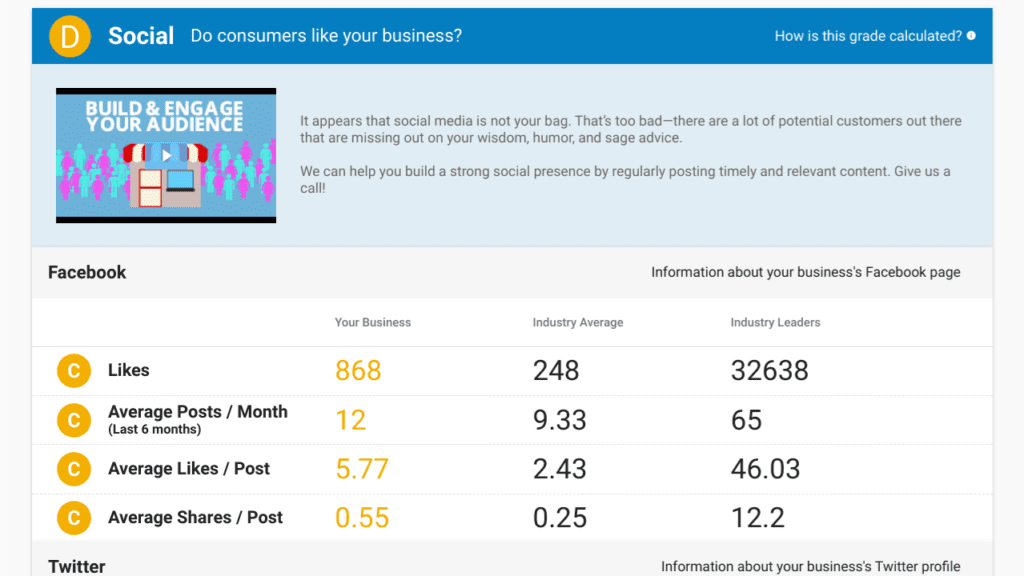 Our Analysis investigates your business's social media presence:
Facebook: Likes, Average Posts/Month, Average Likes/Post, Average Shares/Post
Twitter: Followers, Following, Tweets*
Instagram: Followers, Posts*
Social media channels can help your business grow your fan base and turn online leads into raving customers. Every day, millions of consumers declare their buying intentions on social media. Local businesses must keep their followers engaged to grow their audience and build brand loyalty.
Website
Our reporting leverages Google PageSpeed Insights to assess your prospect's website.
The Website section looks at:
Mobile responsiveness
Desktop load speed
Homepage content
Your website loading speed is critical. We assess whether your website meets Google's expectations for page speed.
This section reviews the effectiveness of your homepage. Vital information needs to be laid out clearly on the first page a customer lands on. First impressions count! Your business information, location information, and links to social media are arguably the most important content on your website.
Advertising
Online advertising puts your business in front of targeted audiences in search results, social media feeds, and other relevant sites around the web. Targeted ad campaigns build your brand awareness, drive traffic to your website, and help you grow your customer base. By making sure that customers can find your business online, you grow your business and secure their place in the market.
The advertising section of the report offers insights from:
Google Ads: The type of Paid Keywords, CPC, and PPC results your prospect could receive if they were using an advertising solution, along with competitor campaign comparison.
Facebook: Whether or not your prospect has taken advantage of retargeting.
Local businesses need to own the right keywords to ensure that their target audience knows about them. Uncover golden opportunities for your prospect with search, social, and display advertising.
The impressions and clicks in a Snapshot Report are an indication of revenue growth potential based on Google Ads.* You can leverage this data and knowledge of Google Ads to help make your sale.
Google Ads is based on SEM (Search Engine Marketing), a method of advertising where the desired result is to increase the visibility of a business's website when a specific set of keywords is searched. Advertisers determine the keywords that are relevant to their business, then use the Google Ads platform to bid on Paid Keywords and promote their ads in relevant search results. Cost-Per-Click (CPC) is the estimated final cost that advertisers are charged to appear for Google search keywords. With Google Ads, advertisers only pay when users click on the ad. This is called the Pay-Per-Click (PPC) model.
SEO
Search Engine Optimization (SEO) is the work that goes into improving a website's ranking in organic (unpaid) search results on search engines like Google and Bing. The goal with SEO is to rank on the first page for the right keyword search phrases that are relevant to the business.
Search engines have completely revolutionized the modern buying process and consumers are searching for business services online. Consumers are using search engines to assess their options and qualify the goods and services they're interested in without setting foot in a brick and mortar store. With 81% of consumers performing an online search before making a purchase decision, every business needs to invest in SEO!
Our Digital Analysis provides valuable insights on how your SEO stacks up against your competitors. The SEO section assesses SEO in two areas:
Organic Keyword Performance: Compares your keyword performance against your top competitors.
Organic Keyword Ranking: Assesses the top keywords that consumers are using to search for your prospect's products or services.
Your business' website is scanned for the top keywords, as determined by Google. Based on these keywords, the report compares:
People conduct more than 3.5 billion searches every day on Google. With a custom Search Engine Optimization strategy, we can ensure that your most valuable consumers see your business where it counts. SEO is about getting your website found on search engines like Google. Consumers see the top search results as the most trustworthy, which is why establishing good search rankings is absolutely critical. In fact, studies show that the first five search results get nearly 70% of all clicks, and 75% of consumers will never click past the first page of search. Furthermore, a whopping 88% of mobile searches result in a store visit within 24 hours! If you aren't showing up at the top, you're losing the battle. We can help you get found online with an SEO strategy.
If you want The Agency to run our Digital Analysis on your company for FREE simply click below: